Various B2B brands and companies have committed that social media marketing is one of the most powerful tools for increasing profit and revenue. Social media marketing is a primary thing learned and practiced by various B2B and social media marketers worldwide.
Today, the social media trend is at its peak, and it seems nowhere is down in the upcoming time. Every marketer uses their potential to generate more profit and revenue. B2B social media strategies are the method or approaches to use social media or networking sites to drive more traffic, generate more high-quality leads, and increase the overall profit.
Creating and implementing a B2B social media strategy can be difficult for a beginner marketer who has just or recently entered into the field of sales and marketing, which is why it seems complicated. However, experienced sales professionals know how to use it and implement it in their sales strategies generating enormous amounts of profit and revenue.
Don't worry if you are a beginner in sales or marketing and facing difficulties or problems working with B2B social media strategies, don't worry. You are in the right place. In this post, we will explain to you different ways to create B2B social media strategy and work on it to generate more qualified leads and increase your profit with revenue.
So, let's start the step-by-step process to create a B2B Social media strategy and know why every B2B brand and marketer uses these B2B social media strategies to increase revenue.
1. Specifying business goals
This may seem basic, but businesses of all sizes focus on specifying and setting their short-term goals. The real-approach drives this marketing or sales strategy; whenever we settle on colossal ways great to break it into smaller milestones or short-term goals that are easier to complete. You can also call them a building block for specifying business goals.
Specifying your business goals is not enough to survive in today's competitive market. A perfect and concise strategy is required to be made to achieve that goal. To extract all possible benefits from B2B content marketing or B2B social media marketing, every sales professional must focus on the three main points discussed below.
One should first attempt to increase brand awareness to extract all possible benefits from B2B social media marketing. It is a complete process of letting the world know who you are. You have to create an image of your brand or company that is what you are, how you are, and why you are. You may also have to know your audience, why you are better than your competitors, and how.
Posting small but effective content on social media about your brand or company puts a good image in front of an audience that you love your brand or company and its culture.
Today B2B buyer's buying journeys have changed a lot now, they do not only visit the home page or website, but they do their independent research for the credibility of the company they're supporting, and that's the reason why you should be aware of educating your buyers about your credibility. You can create short videos, write blog posts, generate educational content, and many more.
After all, one thing you should do to specify your business goal and make people aware of it is to build trust and relationships. Building trust and relationships in social media marketing can provide unreasonable benefits. You can expect positive reviews, testimonials, etc., which can help you generate new sales and increase revenue.
2. Updating your strategy
Updating your strategy and adapting new social strategies according to the customer's needs is always fruitful. You should incorporate the idea of using a customer-centric social media strategy and place your customers at the front and your services at the center in any social media campaigns or advertisements.
Your brand or company may be relevant to any niche. It may be technical, sports, or a pertinent automobile. Still, you have to remember that customer and user engagement can substantially increase your brand value and add a personal touch to it.
You will have to use social media to increase customer or user engagement and then update your strategy on its behalf. You can engage with your audience by answering their questions, clearing their doubts, and gathering feedback.
Posting happy customer stories on social media is one of the latest strategies used by various B2B companies and their sales professionals. This is a bit the same as getting positive reviews and testimonials but in a more impactful manner. Sharing customer stories also helps in increasing the sense of loyalty of your brand or company to its customers or clients. This is one of the best ways to promote your services without representing yourself to the front.
3. Remember your company's initiatives.
Always remember your company's initiatives and try to align them with your marketing strategies. This will always help you manage your performance with the organization-wide data. For this, social media is the best place because it's the primary place for promoting and supporting your company-wide initiatives. Everything should be represented on social media, from recent launches to crossing a milestone. This will also help create an image of transparency for your brand or business.
You can measure your efforts on behalf of business outcomes and then try to optimize them by aligning your business initiatives with your sales and marketing strategies.
4. Remove the usual terms.
As we discussed earlier, updating is essential to B2B social media strategies. You should update your plan and remove the terms of the usual sale from your campaign, replacing them with some new and exciting words after research. In your research, you will have to study the buzzwords and hot phrases trending in the market and then use them in your marketing campaigns.
Remember that using the same strategies in your marketing campaign can make it boring for you and your audiences. It can also be the reason behind the failure of your campaign. So it seems to be a few changes, but its impact is outrageous. However, you can use some B2B social media strategies to overcome disadvantages. They are as follows –
Try to represent your brand more like a human. This increases the interest of your audience and doesn't let users feel like everything is robotic or automatic. Implement a conversational brand or business voice so that it represents the human behind the social media account of your brand or business. Being professional more than required can result in boredom.
Convert your content into a perfect format for social media. This will increase the interaction between your brand or business's scope and engagement. Try to deliver more information in short para or lines because the audience and user will not dedicate a specific time to consuming brand or company content.
If you find that your podcast or presentation does not seem to be effective, then try to publish a minute-long snippet-type video on Instagram or Facebook where you think that your brand or company profile can have more reach.
5. Follow the trends
After some research, you will find many B2B social media around the trends. You must follow the directions and try to be on top of it. This will help you record what your competitors and customers are talking about here and there.
Following the trends will help you increase your participation in the industry-relevant conversation and update your area of knowledge so that after some time, you get well aware of what's happening and how to take advantage of those happenings to increase your sales revenue.
Twitter and LinkedIn are the best social media platforms for following and knowing the latest trends. You should use and switch between them in a day to learn or get aware of the trending and hot topics that may be relevant to you and your business or brand.
6. Thoughts of Employee
There is no one better than your employees to represent the human side of your brand or company. They can help you significantly increase and influence your brand voice and a great approach, representing your brand or company and their work culture.
It may be possible that your employee's social media account has a much greater reach than your brand or business performance itself. If it is, your employee posting anything about your company or brand will reflect your brand value and customer more than you are trying to represent to your audience, which is why they are essential.
It also helps your brand or company to increase or influence its social media presence.
7. B2B friendly platforms
There are various social media platforms that you can use as a B2B social media platform. Still, each social media platform should be used differently per its capabilities and functionalities because, in that way, only you can extract all the possible benefits from it.
In reality, five popular social media platforms are best for B2B content marketers worldwide: Linkedin, Twitter, Facebook, Youtube, and Instagram, sorted based on priority. We always recommend extensively using at most two networks or social media platforms so you may not drain out.
LinkedIn is the top and most popular B2B social media platform widely known for its various types of content and colossal engagement and advertisements.
Twitter is the best place to catch the trends and follow them to know and engage in industry-relevant conversation.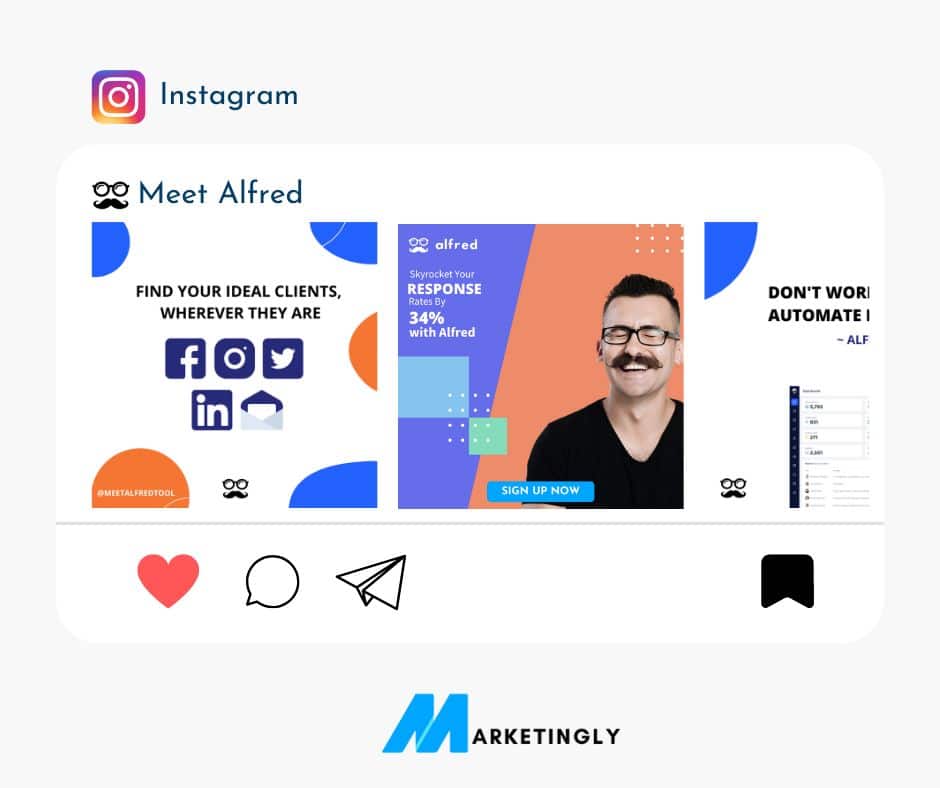 Facebook is best and widely known for its B2B marketing ads, but it is also famous for its nonpromotional content and the most significant number of users.
Youtube is perfect for video representation; whether it's a tutorial, commercials, work culture, or anything else, Youtube does it at its best.
Instagram is still best for infographics and visual content. I am using it extensively. Using also increase your brand value.
Many other social media platforms can be used as B2B. Still, these five are widely used and practiced by sales professionals and social media marketers worldwide.
8. Use of Analytics
Every experienced sales professional knows the importance of reporting and analytics in B2B marketing. It helps a lot in tracking and managing your sales record. Analytics can provide valuable insights and answers that may help you increase your efficiency.
Various online tools available today can help you get analytics of your marketing campaign and understand the areas where you were lacking or where some improvement was required.
9. Analyzing your B2B social media strategy
Intelligence and understanding don't come to you at once, especially if you are a beginner. The earlier you understand this fact, the better you become daily. In sales and marketing or B2B Social Media Marketing, implementing various B2B social media strategies does not guarantee success.
It's pretty challenging to master a perfect B2B social media strategy, which is why it is essential to analyze your B2B Social Media Strategy. It's like looking back at the process to optimize it and increase overall efficiency.
The practices and above practices and strategies B2B social media marketers. However, still, you should tonal flavor those practices require to become incredibly profitable for you and your brand. I hope you like the ideas and thoughts discussed in this post.
About Author